508 Document Compliance
2A – All images and form image buttons have appropriate, concise alternative text.
2B – Images that do not convey content, are decorative, or with content that is already conveyed in text are changed to artifacts.
2C – Equivalent alternatives to complex images are provided in context or on a separate (linked and/or referenced) page.
Why it matters:
2A – This is important for two reasons. One, search engines cannot understand what the image is all about. You need to specify each image with an alternative text, similar to what you would do following the best SEO practices for any website. No image is left out of alt text, and the same goes for the PDF. This also has to be passed in the Accessibility Checker report and summary to ensure compliance.
Another reason is that search engines cannot read the image and alt text is important to give a description of the image. An example we deal with often is charts.  Just like a picture says a thousand words, charts convey a ton of information in a concise format.  The alternative text needs to be concise too and provide a description of the image.  Also remember to keep it concise.  
2B – Whenever there is an image that has no other purpose other than the visual appeal of the document, it needs to be changed to an artifact. For example, a small, square/colored object needs no alt text, like this one:
Similarly, page lines dividing sections or other decorative images used in headers and footers do not require alt text, and hence need to be converted to an artifact.
2C – Before we understand the meaning of this criteria, it is important to first explore what complex images really are. Any image that cannot be explained in a few sentences is a complex image – for example charts, graphs, tables, etc. Understanding a complex image requires the user's ability to understand and grasp the context of that image.
Below is a sample representation of a chart or graph to better understand what a complex image is.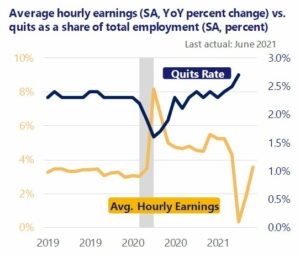 Alt Text : A line chart measuring average hourly earnings (SA, YoY percent change) against quits as a share of total employment (SA, percent) from 2019 to 2021, as of June 2021. Avg. hourly earnings showing a sharp increase from 3% in Feb-20 to 8.17% in Apr-20 with Quit rates decreasing from 2.2% in Feb-20 to 1.6% in Apr-20. While Quit rates have steadily increased since Apr-20, increasing to 2.3% in Apr-20 and 2.7 as of Apr-21, Average hourly earnings have experienced fluctuations, dropping from 4.97% in Jun-20 from previous highest value in Apr-20, increasing to 5.47 in Dec-20 and then sharply decreasing to .33% in Apr-21. Earnings have since increased to 3.58% as of Jun-21.
Alt text is something we recommend all of our clients do internally.  Writing it internally puts subject matter experts in control of the message.  It has other numerous benefits.
Gives the creator a new understanding of what content is important and what gets the point across
Helps the creator to create better written content as many of the principals of alt text are good for regular content
Helps tremendously with SEO
Our 508 document compliance services offer you a guaranteed affordable way to not only achieve compliance but also and more importantly make your documents accessible to your entire audience. For more information on our PDF Accessibility Services and 508 Document Compliance email info@digitalecho.io