AudioEye improves the digital accessibility and usability of websites – providing everyone with an optimal, customizable, and fully inclusive digital experience. First and foremost, the AudioEye technology helps ensure that your website is optimized to and conforms to WCAG 2.1 Level AA. In addition, the AudioEye technology includes a toolbar, which includes a suite of free assistive web personalization utilities that allow your users to customize their user experience.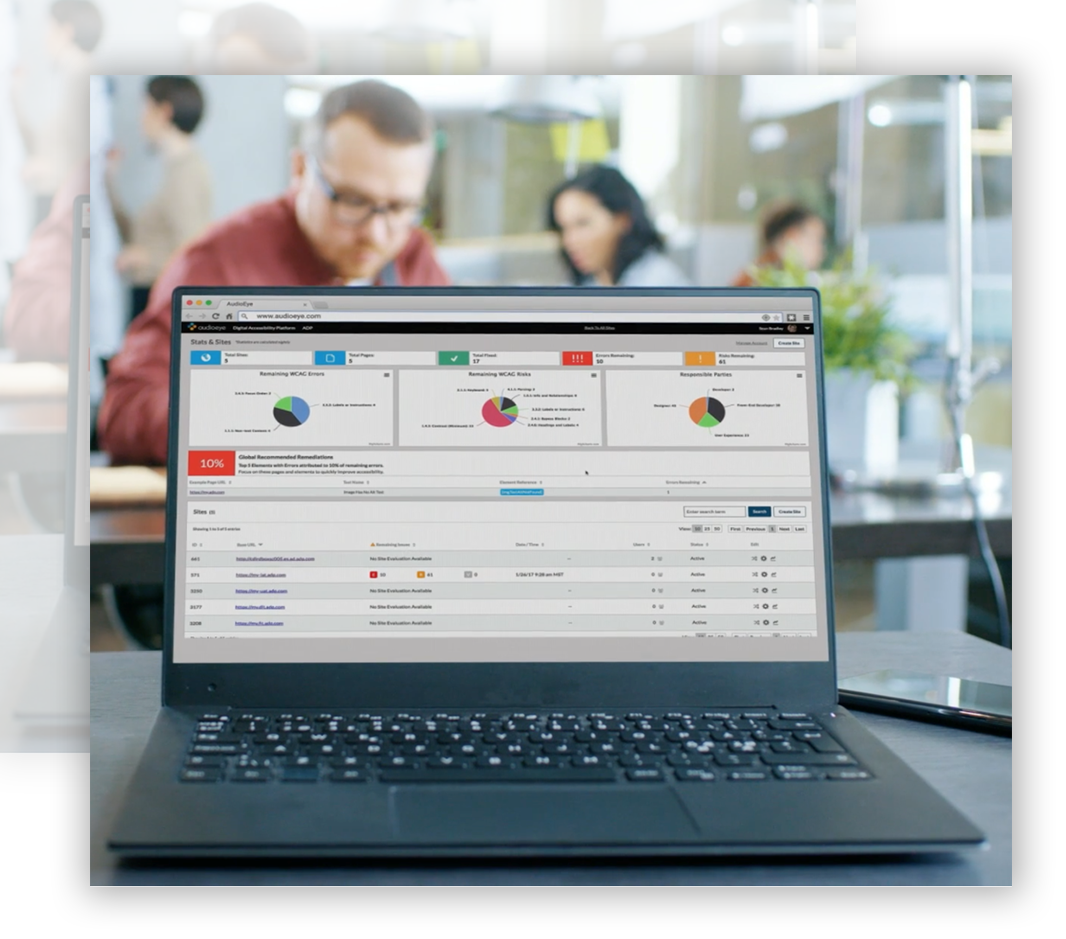 Starting on the path to compliance takes just minutes
Once integrated, AudioEye Dynamic Remediation Technology takes over
Deploy a smarter, no-nonsense strategy
Subject matter experts and specialized engineering manage the heavy lifting for you
Entrust a comprehensive, always-on solution
Thoroughly vetted, technology-first approach trusted by leading global brands and government agencies
The Process…That was Easy!
Step 1

Activation
Fixing most common errors (instantly)
Always-on monitoring begins to illuminate the most pertinent and pressing issues impacting actual users
Foundation, Remediation & Monitoring, Auditor, Training
Step 2

Testing & Discovery
Automated and manual testing detects access barriers including
Issue Identification – Always on monitoring service provides ongoing site evaluation based on site analytics
Accessibility testing – conducted by AT testers
Step 3

Remediation, Validation & Optimization
Test results are analyzed and validated by our engineers who author remediations.
Fix issues/validate usability
Ensure an optimal user experience
3rd party services accessibility strategy
Ally Toolbar – provisioned and deployed
Step 4

AudioEye Trusted
Site has met all prerequisites and continues to fulfill the ongoing requirements of the AEYE Trusted Process.
Continual Daily Audit and issue tracking
Ongoing Weekly remediation
Completely Managed Service
Once the Javascript is installed, there is little to no work effort needed by your team
No Changes to Underlying Code
There are no changes to designs or code that could jeopardize UX or conversion paths
Unrivaled speed to compliance
Immediately addressing issues of 508, ADA and ACA-related requirements
It's Future Proof
New standards are incorporated into the service as released (i.e. WCAG 2.1)
Rinse and Repeat
Leveraging technology provides a repetitive, disciplined, cost effective approach to monitoring
One process
Provides oversight of multiple domains and multiple content editors