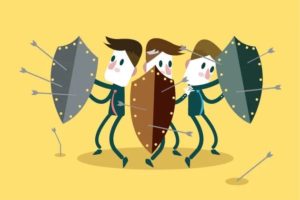 In today's litigious environment, It's not a question of if but when you find yourself on the defense of a pdf accessibility or web accessibility lawsuit or demand letter.  One of the most important things is to mitigate the risk promptly.  It's important to outline a solution quickly and move forward to compliance in a very timely manner.  Unfortunately the next lawsuit is right around the corner if you do not solve the underlying problem.  
"Once a complaint is filed, time is of the essence – you will lose some degree of control over the timing of remediation and the consequences for inaction. Most cases in which the target entity has a clearly non-compliant website settle within two to six months, and most settlements are negotiated in the pre-answer period. Allowing a matter that should, and ultimately will, settle to proceed to a default, or even to a responsive pleading and mandatory initial court conferences, only serves to increase the plaintiff's counsel fee and expenditures that will be demanded when the case ultimately settles." Mark S. Sidoti, New York Law Journal
Practical Strategies for Defending ADA Website Accessibility Claims 
Mark S. Sidoti, New York Law Journal
Defense of ADA website claims calls for a very practical approach, undergirded by an in-depth knowledge of defenses that are likely to prevail and those that are no longer viable. This article discusses the current state of the law and focus on practical strategies for resolving ADA website claims.
Americans With Disabilities Act (ADA)-based discrimination claims alleging inaccessibility of business websites have exploded onto the scene over the last several years as one of the latest entrants into the so-called "drive by" (or, in this case, "surf by") ADA litigation trend. Thousands of these claims, usually involving visually impaired persons, were filed nationwide in 2018, primarily in New York, Florida and Pennsylvania, with more than 1,500 cases clogging the dockets of the Southern and Eastern Districts of New York. Every business with a consumer-facing website is at risk. The claims reach far beyond retail businesses, hitting the food services, real estate, financial services, higher education and entertainment industries. Since 2016, a series of plaintiff-friendly federal district and circuit court decisions has presented even further challenges to the defense of these claims. Defense of ADA website claims calls for a very practical approach, undergirded by an in-depth knowledge of defenses that are likely to prevail and those that are no longer viable. This article will discuss the current state of the law and focus on practical strategies for resolving ADA website claims. This article will discuss the current state of the law and focus on practical strategies for resolving ADA website claims Read More